Evergreen
Five and I arrived at the airport, picked up our rental car, and stopped for lunch at a vegan restaurant in the city on our way up to the cabin. We arrived in the afternoon, greeted and talked with Grandma, and played with her new puppy, Winston. He is a miniature poodle, small and fluffy and energetic. The presence of a new dog has seemed to improve Grandma's spirits and mood, after a year of depression. The particular connection she feels with canines is evident; she often interrupts her own stories mid-sentence to greet Winston, or praise him for seeming to learn something new.
Once we got settled and took naps, Five and I decided to drive into town to get groceries. Before departing the cabin, we were greeted by a sunset over the mountains that delayed our departure for at least fifteen minutes. Streaks of brilliant orange emerged from dark clouds above the mountains, as the invisible sun illuminated the scene from below. The vibrant hues looked like divine brushstrokes, or flames, and glowing dabs of purple and blue shone through the clouds.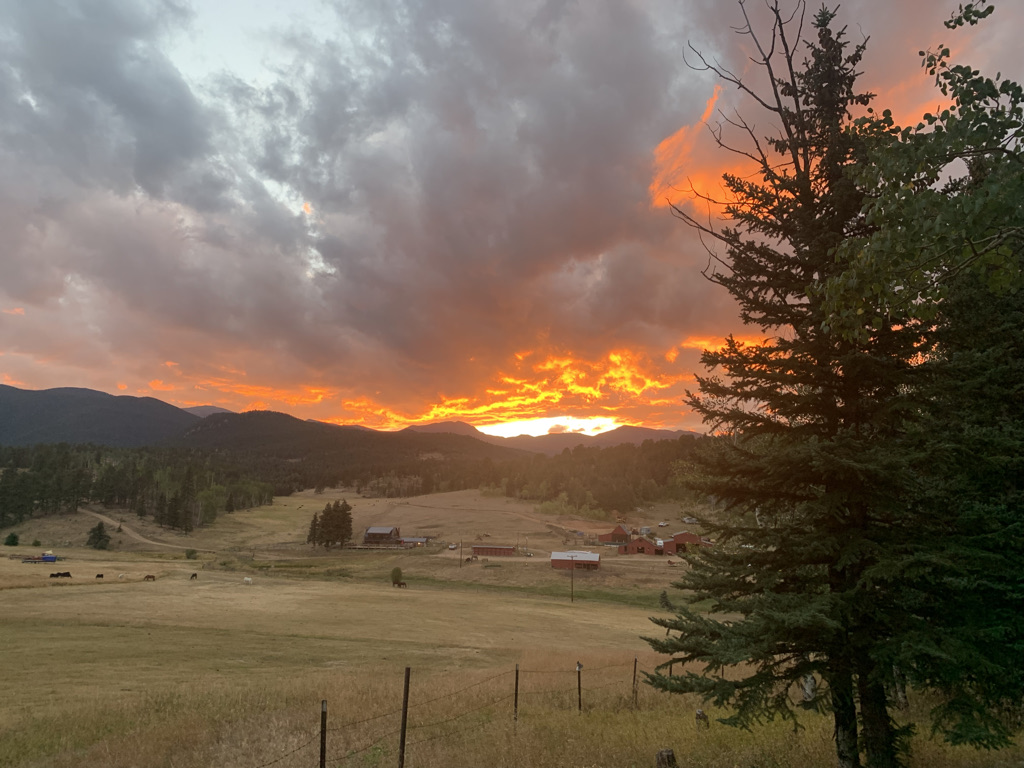 After the natural grocers we stopped at Taco Bell, where Five ordered a veganized crunchwrap supreme, and I got a spicy potato soft taco and a cheesy gordita crunch. Five played songs by Homeshake, who I'd never listened to before but enjoyed, and said the landscapes reminded her of their music. Driving back up the mountain, I put a playlist on shuffle, and we heard songs by EST Gee, Yeat, John T. Gast, Duwap Kaine, and Kanye West. We put away the groceries, talked with Grandma for a bit, and went to bed.
Upon waking we made coffee, talked lucidly about issues back home, said good morning to Grandma, ate microwaved breakfast burritos, and tried to read but took naps instead. I characteristically woke before Five and read in bed, noticing my brain functioning much more imaginatively and interconnectedly in its post-nap state. I found that my reading material spurred unusually rich and long digressions of thought, often regarding how lessons of the text might be integrated into my own life, thus improving my overall experience and well-being.
Five remained in slumber, her dark hair obscuring her heart-shaped face, shielding her eyes from incoming sunlight. I finally woke her at 3:00 PM, then we microwaved a frozen vegan pot pie that we bought the night before. It tasted terrible in a slightly amusing but mostly disgusting sort of way, with microwave being the only discernible flavor. We laughed and repeated a previous agreement that we'd refuse to own a microwave in our next apartment. We decided to drive to the lake, packing a bag and saying bye to Grandma before getting in the car.
I drove slowly along the bumpy, winding road through Indian Creek Ranch, the cooperatively owned tract where the cabin is—opening, driving through, then closing two gates along the way. We passed horses and cows, and Five expressed her hope that there were calves around. "They're so cute," she said. The second gate I opened, then closed, is at the top of a hill, below which the land opens up, revealing a small lake (or pond, as Grandma later insisted). We drove down the hill and parked the car on the grass. We got out and looked around, processing our surroundings. We wordlessly walked pondward, assessing its depth and the quality of its water. I told Five that during Dad's younger brother's funeral, which took place by the pond four years prior, Dad's older brother had, animated by what he characterized as a will-less, mysterious ambition, dived head first into the pond's freezing water. It was something I'd only seen Garrett do before.
Beyond the pond is a creek with many tributaries. We walked down to the creek, using rocks as stepping stones to cross its streams and go deeper into the forest. We hopped and jogged excitedly among the trees, moving back and forth between patches of sunlight and shade. Five felt as if we were fairies, wondering whether men could be fairies too. "Wasn't Peter Pan a fairy?" I asked disconcertingly. We continued to wander deeper, until we noticed we were at the foot of a mountain. Five asked me to climb twenty feet or so up the slope, saying she wanted to take a photo of me from below. She pulled out her Canon AE-1 from the backpack. I climbed back down and noticed a particular rock sitting alongside a stream. It was rather large, and its smooth, parallelogram-shaped face was covered in mosses of green and grey. Five walked downstream but I stayed, struggling to depart from the aura of this rock, as I found in it affirmation of something I'd felt intuitively for some time: art is not a byproduct of civilization; it too can exist in nature.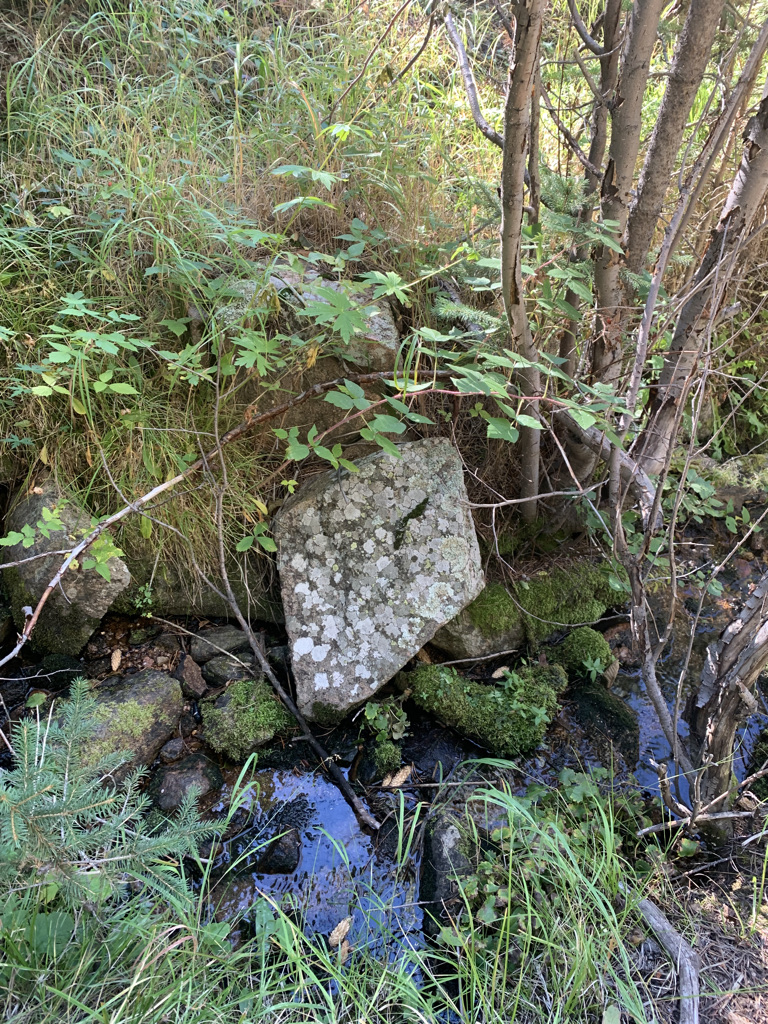 We retreated from the forest, taking photos of each other amidst the trees along the way. Clearing the creek, we scaled a moss-covered boulder with room for us both. We sat for a while, eating vegan cheese puffs and inspecting the moss. Five spotted a tick, so we got up and approached the pond. Circling its perimeter, we found a particularly luscious patch of grass on the far side and lay down—first on our backs, where we meditated and held one another and talked, then on our stomachs, where we observed the grass and leaves and ants. I fantasized about being an ant for a day, fully immersed in the forest of grass, exploring unknown territories. Five noticed an area of small, grass-covered mounds in the distance, laughing at their cuteness and the fact that she wasn't familiar with the word "mound" only weeks prior. We got up and walked towards them, wanting to be in their presence.